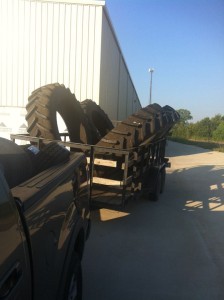 Delivery is available to a limited area of central Texas with minimum purchase required, on in-stock tires.
In general, the delivery area ranges from Goldthwaite to Lockhart, and from Crockett to Italy, Texas.
Call us to confirm you are within our delivery service area and for details on minimum purchase.
Outside our delivery area?
If you are outside our delivery area, we can quote tires via common carrier.
Select tires are available for pickup from our supply warehouses located in Houston, Austin, Dallas, Fort Worth, and Denton.
If using a credit card a 3% convenience fee will be added.